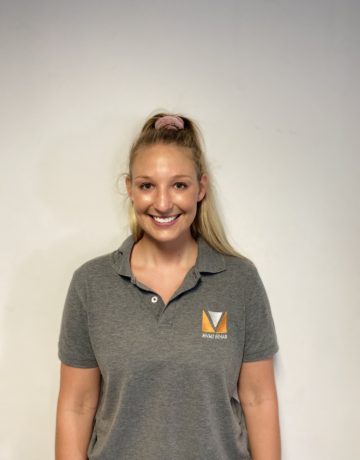 Aimee Calderara
Exercise Physiologist | B.Sc. Ex. & Sports Science, M.Clin.ExPhys
Biography:
How long have you been working for MVMT Rehab?
3 ½ years
What experience are you bringing from other jobs?
In addition to my University degrees, I have completed various internship/volunteer positions and additional courses in fields including strength and conditioning, Olympic weightlifting and sports medicine. I have also spent time working in various high performance facilities, providing screening, education, injury prevention strategies, and rehabilitation to elite athletes. The level of care required for athletes of this level is of the highest calibre and has driven me to provide the best possible service to all my patients.
What is your passion as clinical AEP/in your role with MVMT?
Do it with passion, or do not do it at all – I think this is an accurate description of my motivator as an AEP. I love connecting with people and eliciting change, for the better, in their lives. I am a 'tough love' kind of person, so don't expect an easy session if you're lucky (or unlucky) enough to have me as your AEP. This drive largely stems from my competitive sporting background and experience.
What is your hobby / What do you like doing outside of work?
You name it – I'll (probably) do it.
From spending days at the beach, painting artworks, gardening and home DIY projects, to spending majority of my pay on purchasing new shoes and over indulging on ice-cream!
Dog or Cat?
DOGS. But not just any dog…. My dog, Pepe, is THE BEST (I'm not at all biased!)